New Tools to Collect Microplastics

3 min read

May 1, 2023
Emerging Scientist Develops Stand-Up Paddle Board Net to Collect Microplastics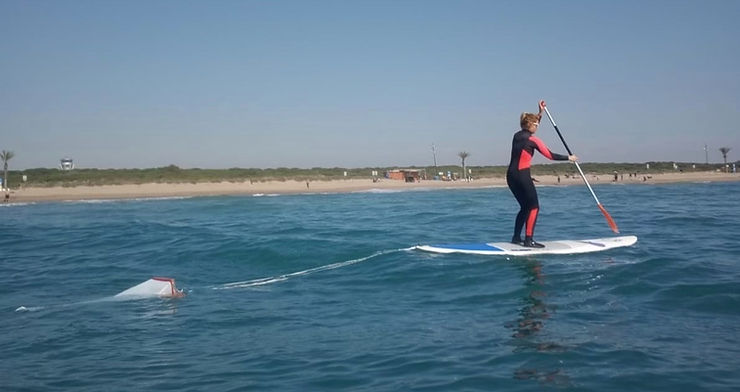 As concerns over water quality in Barcelona, Spain rose among local surfers, emerging scientist Elsa Camins used microplastics to assess the health of coastal swimming areas.
Elsa, of La Garriga, Spain, developed an innovative community science tool – a manta trawl designed to collect microplastics from stand-up paddle boards (SUPs). The prototype created a ripple of excitement in the community science world as it showcased a creative solution to address microplastic pollution and empower the public with budget-friendly tools to collect reliable data from their local environments.
Surfers in Barcelona suspected that wastewater might enter the ocean after flooding from major storms, which could also lead to an increase in microplastics in the nearshore waters. Elsa's SUP manta trawl provided a valuable tool to investigate this issue and contribute to the understanding of microplastic pollution in the area. While the study was conducted in Barcelona, microplastic pollution is a global issue that affects many coastal cities. It highlights the importance of gathering data from different locations to better understand the extent of the problem.
With funding from the Surfrider Foundation Europe Spanish delegation (Surfrider Spain) and the Universitat de Barcelona, and under the supervision of Dr. Anna Sanchez Vidal, Elsa hand-stitched a new manta trawl for SUPs as part of her undergraduate thesis. The manta trawl allows community scientists to collect microplastics while enjoying their favourite water activities such as SUP, sailing and kayaking in areas that may be inaccessible to larger boats.
Manta trawl nets are typically towed behind large research ships to collect plankton or microplastics. Elsa's design does not require a large research vessel. It is a more compact open-mouthed net that can be easily towed behind a SUP board to collect microplastics as the paddler moves along. Elsa's net is enhanced with stabilizing fins inspired by sharks, the fastest fish in the ocean, to maintain its stability and efficiency.
The need for such tools to collect reliable data from local environments is becoming increasingly important as community science becomes more popular.
"We are seeing a shift towards more community science," says Elsa. "It's a win-win..."
"We are seeing a shift towards more community science," says Elsa. "It's a win-win. For the public, it's a fun and educational volunteer activity, and it provides a sense of achievement because community members have contributed valuable data on ocean pollution. For scientists, it allows for sampling over larger areas even with limited funding, and it also improves science communication with the public."
The legacy Elsa created with her innovative manta trawl design is inspiring, and it has been featured in scientific publications such as the Science of the Total Environment ("Paddle surfing for science on microplastic pollution") and Environmental Research Letters ("Floating microplastic loads in the nearshore revealed through citizen science"). Her prototype has paved the way for more manta trawls based on her design, and it serves as an example of how community engagement and creative solutions can contribute to addressing environmental challenges like microplastic pollution.
It's important to note that while microplastic collection is one thing, analysis is another.
Laboratory analysis of microplastics can be time-consuming, as Elsa experienced. She analyzed microplastics collected by community scientists in the laboratory where she carefully measured and characterized each microplastic by type, colour, shape and more. It was a time-consuming but important process. While the analysis took place, the community scientists were eager to see results.
Recently, Ocean Diagnostics launched a new device, the Saturna Imaging System, which complements community science projects like Elsa's. It uses AI-based imaging technology to rapidly capture microplastic data without the need for a laboratory or microscope.
The information gathered through community-based approaches are valuable data needed to determine microplastic hotspots and sources to keep these plastics out of our oceans.
The use of community science not only provides valuable scientific data but also encourages public engagement and education about the issue of plastic pollution. You can conduct a community science project by making a SUP trawl like Elsa's and using Saturna to interpret the data or sampling your local sandy beach with a Community Science Toolkit.
Check out the Surfing for Science promo video to get inspired. Or follow the Surfing for Science team on Instagram: @surfingforsciencelab.
Ocean Diagnostics Inc. (ODI) is a Victoria, B.C.-based environmental impact company that diagnoses and protects our planet from the threats of plastic pollution and biodiversity loss. Through innovative technology, cutting-edge laboratory capabilities and collaborative partnerships, ODI enables scientists and the public to collect the data needed to influence local and global solutions.