Community Scientists Uncover Potential Microplastic Sources in Prince Rupert

3 min read

Sep 27, 2023
Community Scientists Uncover Potential Microplastic Sources in Prince Rupert
Nestled along the Pacific Coast of British Columbia, the small historic city of Prince Rupert is home to Coast Ts'msyen, humpback whales, grizzly bears and known for its salmon canning and Indigenous history. Yet, industrial and commercial activity are rising, prompting pollution concerns.
Concerned with increasing amounts of pollution in the region, North Coast Ecology Centre Society conducted a three-month pilot community study to assess microplastics on four of the area's beaches.
With support from the Department of Fisheries and Oceans and Ocean Diagnostics, the community found a striking number of blue rope pieces made of polypropylene at the beginning of the study. As the study progressed, they found more foam pieces made of polystyrene. This change aligned with a change in fishing season. When the fishing season ended, there was a noticeable change in microplastic types found on the local beaches, but more research is needed to better understand the shifts in microplastics on local beaches.
These findings lay an important foundation for local solutions and future monitoring to assess effectiveness. Polypropylene ropes and polystyrene, commonly used in maritime activities like fishing and boating, are known to contribute to the global microplastic issue. The community plans to collaborate with relevant industries to address this problem.
"The arrangements between Ocean Diagnostics and the North Coast Ecology Centre Society allowed us to glimpse into the science world of studying plastics' impacts and we hope to build on this modest and local start," says Colin Masson, North Coast Ecology Centre Society Program Manager.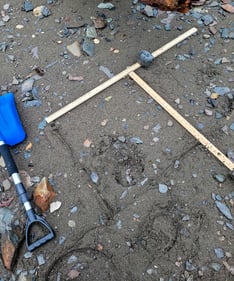 In an adventurous feat, contending with unpredictable weather, wind strong enough to knock you over, daylight savings, high tides and boat-only access beaches, volunteers surveyed four beaches once a month from November 2022 to January 2023.
Beaches were selected based on their proximity to human activities: McNichol Beach, for example, is located across from the harbour; Kwinitsa Station is home to a railway yard, public trails, a new brewery and an old fishing pier; Ridley Island is a highly industrialized area; and Dodge Cove is home to a small town and situated across from a container port.
"We found many blue pieces that looked like ropes used in fishing activities, but as the season ended in December and January, we noticed much less. Instead, we came across more and more Styrofoam," shares Brandie Loranger, lead scientist on the study.
North Coast Ecology collaborated with Ocean Diagnostics on the study design, implementation and analysis. Volunteers and lead scientist, Brandie, used Ocean Diagnostics' Microplastics Community Science Toolkit to conduct field sampling and analyze the samples using new technology called the Saturna Imaging System. Saturna is an automated imaging tool that rapidly captures data like size, shape and colour which are important clues about the plastics' sources and impacts. A sub-set of particles was then sent to Ocean Diagnostics' lab for chemical analysis to confirm polymer type.
As the project progressed, there was a noticeable shift in observations.
"As the months went by, our observations started to change," says Brandie. The shifts in the types of microplastics they found led Brandie to believe that changes in industry activities may play role in influencing microplastics.
Brandie stressed the need for more information over a longer period to really understand how microplastic sources change with commercial seasons and how industries contribute to microplastic pollution. Though these are early insights, they suggest that industries can make a big difference in reducing microplastic pollution.
Studies like this help to fill data gaps in remote British Columbia areas, where information on microplastic pollution is scarce.
"There is not a lot of information about microplastics on our coast," explains Brandie. "In fact, the amount of microplastics data towards north of Canada north is painfully low."

The team has applied to extend the project to continue surveying beaches. By capturing more information, they can continue to fill data gaps on Canada's coasts to identify and address microplastic sources and help to preserve of our environment.
"We have all seen the photos of trash in the ocean or animals dying from eating trash. Plastics break down over time, and this research helps us understand their sources, so we can help mitigate it," explains Brandie.
Community involvement and support from the North Coast Ecology and the Department of Oceans and Fisheries, led to valuable insights into the microplastic pollution in Prince Rupert's beaches.
The success of this community-based study showcases the power of community science and technology to address environmental challenges. By actively engaging in environmental issues using innovative tools like the Microplastics Community Science Toolkit, we can broaden our understanding of microplastic sources and help to preserve our precious ecosystems and coasts.
Together, we can make a difference.
---
Ocean Diagnostics Inc. (ODI) is a Victoria, B.C.-based environmental impact company that diagnoses and protects our planet from the threats of plastic pollution and biodiversity loss. Through innovative technology, cutting-edge lab analysis and scientific expertise, ODI enables scientists and the public to collect the data needed to influence local and global solutions.