Emerging Scientist Validates Community Microplastics Data with Saturna

3 min read

Nov 10, 2023
Emerging Scientist Validates Community Microplastics Data with Saturna
Growing up with a love for seafood, emerging scientist, Antonine Omware, was concerned to hear microplastics had made their way into local fish. Piqued with scientific curiosity, Antonine ventured to Royal Roads University to explore how community members can study microplastics to reduce their environmental risk.
Over the past year, Antonine worked on the North Coast Ecology Centre Society community science project in Prince Rupert. Under the supervision of Dr. Anna Posacka, Ocean Diagnostics Chief Scientist, and Dr. Peter Ross, Raincoast Conservation Foundation Senior Scientist, Antonine used new technology to ensure microplastic data collected in the community science study was scientifically robust. As an early career scientist, her commitment to data accuracy stems from aspirations to generate solution-oriented data that can influence policies to tackle plastic pollution.
"Plastic pollution is a global crisis, and it has impacts on wildlife and ecosystems. That passion drove me to plastic research. I have a desire to drive change at a systematic level and lend a helping hand to policy and advocacy efforts," explains Antonine.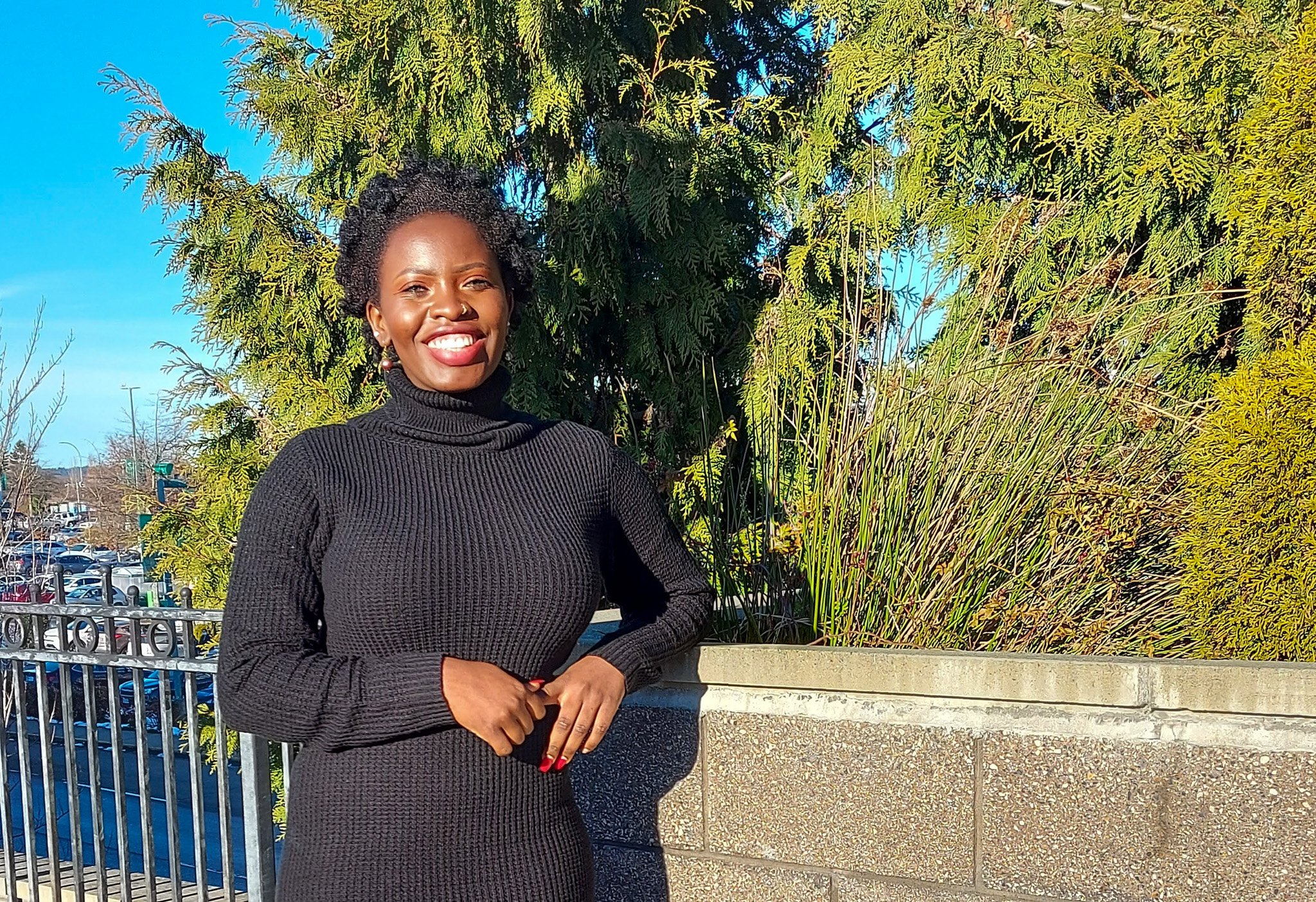 During her master's, Antonine joined the North Coast Ecology Centre Society community science microplastics study in Prince Rupert, as a collaborative scientist. Community volunteers used the Ocean Diagnostics Community Science Toolkit to examine four local beaches for microplastics. After discovering most microplastics were foam or ropes that seemed to be related to marina activities, the team is eager to expand this pilot study into a longer-term research project to gather more data.
To identify trends and microplastic pollution sources, more local data is needed. Data can inform solutions and is the key to solving the plastic pollution crisis.
"You can't take care of something you don't know. If you don't know the impacts of microplastic pollution, or plastics, you won't know what to do," says Antonine.
Community studies are especially valuable because they boost awareness and advocacy and can potentially influence policy prioritization. However, scientists and policymakers need scientifically sound data to make informed decisions.
"Working with experts gets you access to knowledge and technology that dramatically improves your microplastics research. Getting accurate and reliable data from local areas is critical in ocean science – for policy change," notes Antonine.
Collaborating with Ocean Diagnostics, Antonine took the microplastics data collected by community scientists and quality controlled it using the company's automated imaging technology.
"It was my first time using the Saturna Imaging System and I believe [it] played a crucial role in the visual analysis of microplastics. Seeing [Saturna] in action shows how it avoids bias and collects complex data quickly," she shares.
When designing a project, it's crucial to consider the accuracy, reliability and meaningfulness of the research, along with technical considerations and specific methodologies. This is where expertise comes into play. Community Science Toolkits are created by scientists to empower community members to conduct scientifically sound studies.
"Many people want to contribute to microplastic research because of the negative implications," she remarks.
The necessary tools and data are available for these projects.
Antonine emphasizes that we should all be concerned about the presence of microplastics and their impact on ecosystems and wildlife. Plastic pollution is a global crisis, she explains. Microplastics have infiltrated wildlife food chains and human food systems, and there is still much we don't understand about this pollution.
Antonine began her career with a bachelor's degree in environmental science from the University of Nairobi, where she witnessed firsthand the power of public awareness. As a member of her university's environmental club, she participated in campaigns to reduce plastic usage in the country. Before long, Kenya implemented a plastic bag ban, which Antonine attests was a result of public concern.
Seeing policy change after community outreach and voiced concern, proved to Antonine that community members can contribute to positive legislation change. Her work in the North Coast Ecology Centre Society project illustrates that volunteering to collect data leads to better understanding the problem and helps work toward binding solutions.
Antonine become even more aware of microplastic pollution while studying wastewater during her honour's thesis. Wastewater contains a lot of microplastics, which raises concerns about water quality. With plastics on her mind and learning more about microplastic pollution through her wastewater research, Antonine took a big step in her scientific career, moving from Kenya to Canada's Pacific Northwest for a master's in environmental science from Royal Roads University.
Driven by a commitment to meaningful change through community science, Antonine expresses her enjoyment working on these projects: "The whole Ocean Diagnostics team was so helpful and simplified the process of using new technology," Antonine expresses.
---
Ocean Diagnostics Inc (ODI) is a Canadian environmental impact company that develops cutting-edge technology for researchers and community scientists to collect the microplastic and environmental DNA (eDNA) data needed to fill knowledge gaps and support informed decision making to protect our oceans.
For additional information, visit www.oceandiagnostics.com.